Group Drum Therapy is great for everybody!
Do you want to raise quality of life for the people you take care of or teach?  Does better mental, physical, social well-being appeal to you?
Do you want to take care of them and have fun with them rather than alway directing traffic?  That's why you got into this, isn't it?!
I'm guessing that it does and that you know that drum circle therapy is fun, engaging, social, and physically and mentally stimulating.  That's the 
Rocket Rehab program.  
I have included over 50 audio tracks that provide hours of fun and instructional fun and activity for your group!  You can use do it yourself instruments (like buckets) or buy some inexpensive equipment. I have links and recommendations at the bottom of this page.
You can even just
 clap your hands – you don't NEED to use instruments!
This is a great option for bonding and having fun with your group, when you're short staffed, or want to take a vacation or sick day.  Having a vojust press play!  You can even just have volunteers in the room – I take care of everything!
Just hit play it's easy, fun, and therapeutic.  You don't need any musical abilities at all!  There's a few tracks below to get you started and help you make up your mind (
takes longer to load but then you can download them).  I use a simple, word-based system that everyone, regardless of ability, can play along to and have fun with!
…and you can use those rhythms to play along with familiar songs (which I provide links to) or extended loops like the one below.
Make sure to watch the DIY instruments video at the bottom of this page!  There also resources there if you want to buy some inexpensive instruments for the group – or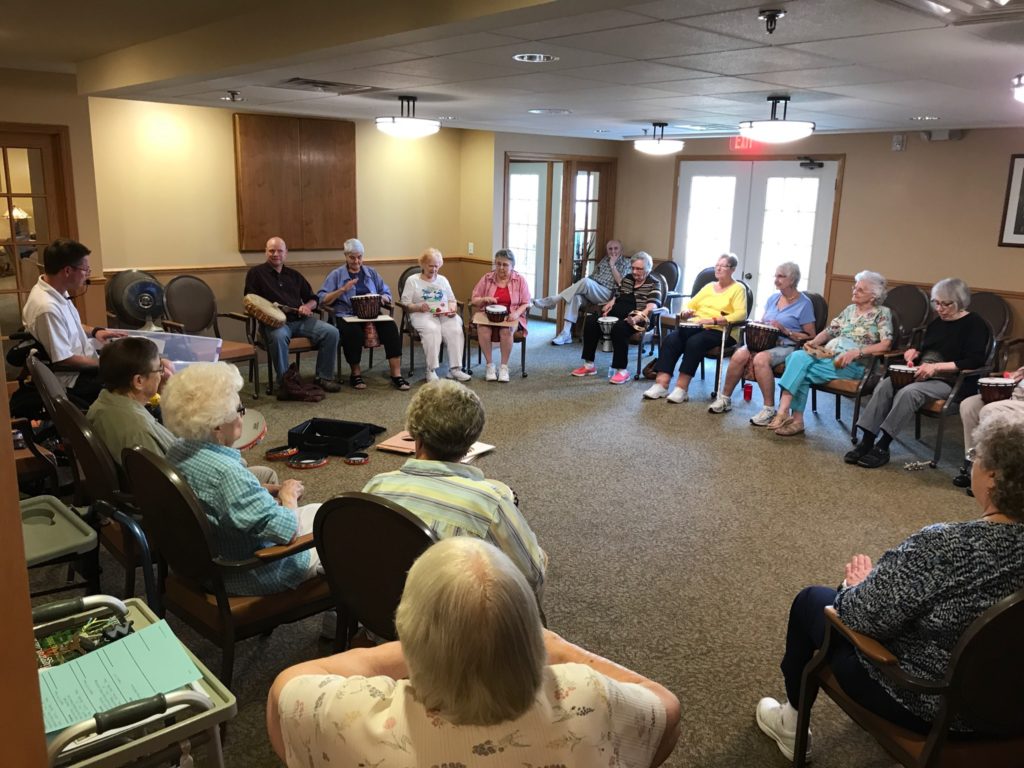 If you want to raise the quality of life for your residents or students – this is the science of how to do it
Rocket Rehab is a fun, engaging, therapeutic activity based on drum therapy that I have developed using my experience as a research administrator, drum therapy facilitator, and founder of BMD Drum Circles.  Group drumming has been scientifically proven to be extremely entertaining, fun, therapeutic, healing, socially engaging, and so much more (check out these articles for a taste of the many benefits: article 1 (part of Harvard Health) and article 2 (Washington Post article with CNN video about group drum therapy for seniors with dementia)).  It has been shown to be hugely beneficial to assisted living and nursing home residents, people of all ages that have disabilities, patients with various diseases,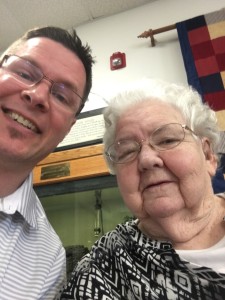 returning soldiers with PTSD, and just anyone that feels the stress of everyday life.
Rocket Rehab is a stand-alone audio program with activities to keep your group busy for the foreseeable future!
…and it's more than 50 tracks for less than a single session with a live performer!
You can use the audio program when your short-staffed or want a day off (just have a volunteer(s) or sub in the room), for example – or as an activity on a normal day.
The best part is that you can do it as often as you want – which is how all of those scientific studies are done, anyway!  They're carried out in a finite amount of time using consistent and controlled methods.  That's how scientific studies work – using very frequent and consistent methods so that the results can't be attributed to anything else.
"Thank you so much for bringing Jim Turk to Trinity Pines. That was one of the most exciting programs I've experienced in a very long time. So entertaining and instructive and creative…..not enough words to describe"

The Rocket Rehab program has been designed to be a stand-alone drum therapy program.  There is no planning time so you to get a lasting, permanent change right away – it's just science!
"They haven't stopped asking when you will be coming back ever since you left"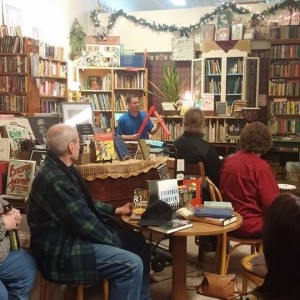 Get your group to experience great results with Rocket Rehab
We want to give people their best chance at raising their quality of life.  Rocket Rehab does just that!  You'll have hours upon hours of recorded sessions that are fun AND therapeutic – you'll wonder how you got by without it.
What's Included
The recordings are great and perfect when your short staffed or need a day off – or are looking to do something different.  Just hit play!  You get hours and hours of fun, movement exercises, holiday themed drum circles, games, and more!
It's SO easy – you can even have a volunteer do it!  It takes NO PREP TIME and you can use DIY instrument making (easy) and decorating as a separate craft/project!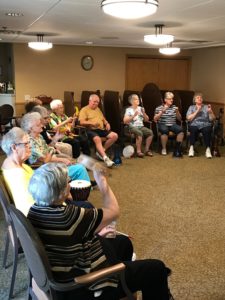 This is perfect for when you're not around, short staffed, or want to get new staff or volunteers involved without giving them total control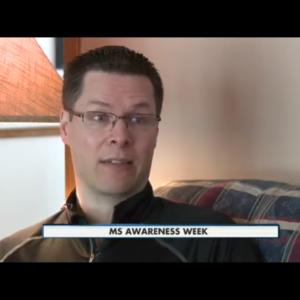 These programs don't require you to have any musical experience.  They're easy, fun, and therapeutic!
It's super-easy and my method makes it simple for anyone, regardless of abilities, to do instantly!  Best of all – there is no prep-time!
Rocket Rehab is a way that you can use a group drumming style therapy on a frequent basis and make a difference in people's lives!
"The residents are still talking this morning about how much they enjoyed the drumming circle."
This program will be an incredible benefit to teachers (for kids with and without disabilities), assisted living and nursing home residents, PTSD sufferers, Parkinson's, cancer, and many other disease patients, and most of all – YOU!
Rocket Rehab – $197   Holiday Special – $97 CHRISTMAS GIFT – both for $50!

When I get notice of you making the investment, I'll send you the link.
🤓🥁 December Special – I'm going to give you my Rocket Rehab DIY program FOR FREE of you buy the full audio program in December!  This program sells for $197 on its own and is filled with resources, lots of instructional and actual live videos, and examples so that ANYONE can lead a drum circle.  It even has lesson plans so prep time is virtually non-existent!
Don't let the perfect be the enemy of the good.   This will make your group's life better!  Enjoy and let me know if you have any questions.   Between the two, you have enough material to last a long, long time!
…and if you like it – don't forget o share it 😉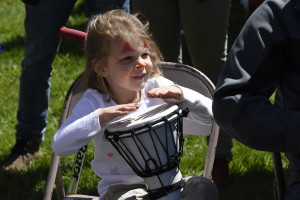 Here's a list I took from David Robertson's blog about the benefits of group drumming, on which Rocket Rehab is based.  This is something you should be doing – plain and simple!
"Thank you so much for coming in today! The residents that attended really enjoyed it!
This is great therapy and enrichment and it's physically, mentally, and socially engaging – and it's fun!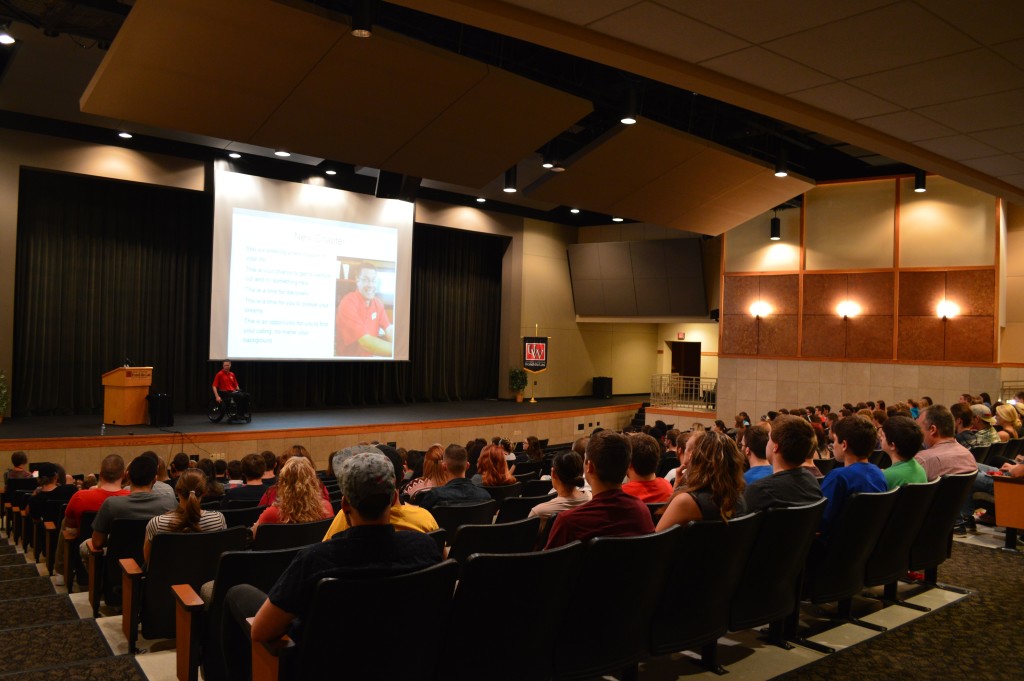 Ten Reasons to Drum for Your Health
1. Drumming is for everyone
2. Drumming reduces stress and boosts the immune system 
3. Drumming produces deeper self-awareness by inducing synchronous brain activity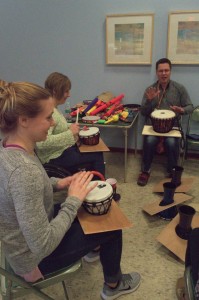 4. Drumming helps to releases negative feelings and emotional trauma
5. Drumming helps us to connect with self and others
6. Drumming helps us connect to the natural rhythms all around us
7. Drumming provides a path by which we may access a higher power
8. Drumming grounds us in the present moment
9. Drumming helps us to reach a state of self-realization
10. Drumming is fun

Make the instruments yourself or use stuff you have around the building!  Clap your hands or play on your legs.  Personalize what you have – Make it a separate craft!
Inexpensive instruments options:
There are a lot of instrument options, here, and many are pretty inexpensive for what you get.  Until you want to make a bigger investment, I recommend getting a set or two of frame drums, because you can play them with your hands or with mallets, a percussion kit (at the bottom – lots of different stuff), and a bunch of egg shakers.
Boomwhackers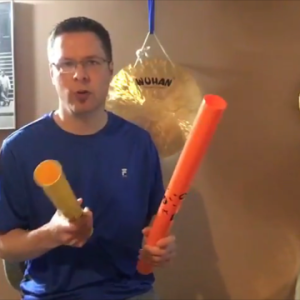 Egg Shakers – The LP, Meinl, and Nino are better quality buy slightly more expensive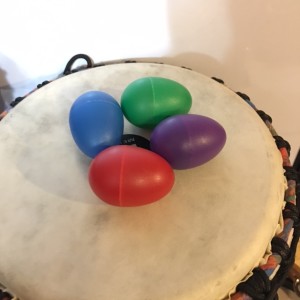 Wrist Bells – great fun for everyone and a fun and easy way to get less able people involved!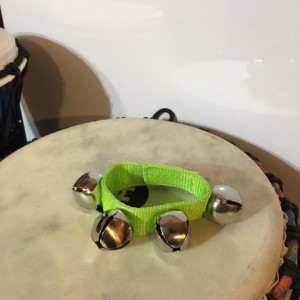 Tambourines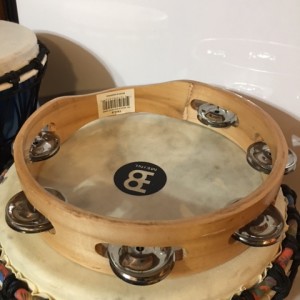 Frame Drums – be careful – sometimes the picture doesn't match what you're ordering (i.e. # of drums – read the description)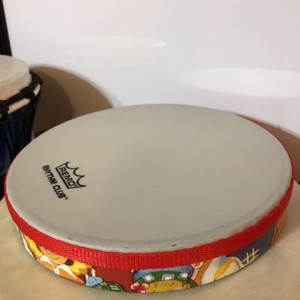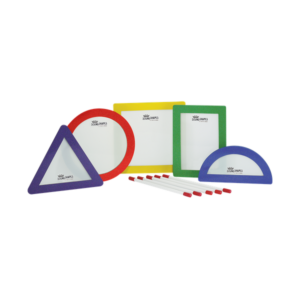 Sound Shapes – similar to frame drums – nice and portable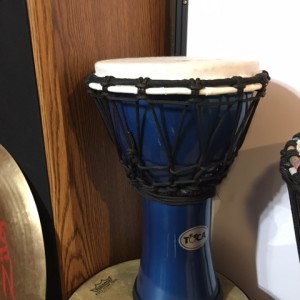 Small Toca Djembe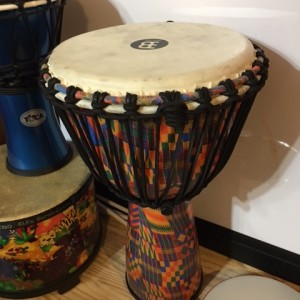 Medium Djembe – Mine has a 10 inch head, to give some perspective
Percussion Kits – assorted instruments – usually a fair amount of stuff for little money.  Size and quality isn't great but it probably won't matter.  I would probably buy one or two of these, a bunch of shakers, and some frame drums or sound shapes.
"Hi Jim , the residents had a great time last week with you. We would love to have you back."
You're the expert!
I am a lifelong drummer and drum teacher.  I spent much of my career as a high level research administrator at a major university.  None of that matters because I don't have the expertise or rapport with your students, employees, and patients!  This program is perfect for you!
Jim Turk, MS