Jim Turk, a native of Madison, holds a bachelor's degree in Natural Science and a master's degree in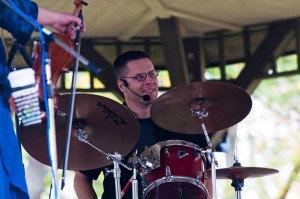 biotechnology, from the University of Wisconsin-Madison, is a husband and father of two sons, a blogger, an avid drummer…and has been living with multiple sclerosis since 2008.
MS is an unpredictable, often disabling disease of the central nervous system. There is no known cause, or cure.
"My neurologist has said that this is what makes me unique – high-level research knowledge but with the patient perspective," Jim says in his blog. "I wasn't going to take this diagnosis lying down!"
On May 7, 2017, Jim and his team MS for MS will join more than 1,200 people at Walk MS: Madison to raise more than $185,000 to fund the Society's critical research. Since 2009, Jim has volunteered and co-chaired the Walk in Madison.
"I used my training and research knowledge to tackle living with MS," he says. "I'm in a much better place than I was before this came about, I've figured out how to achieve balance in my life, and not a day goes by without me continuing to work on it."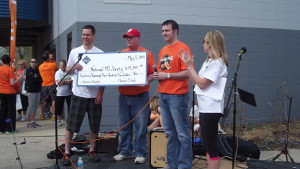 Balance issues, related to MS, have Jim using a wheelchair to move around safely. Yet, he exemplifies standing in defiance of a disease that's trying to stop people from moving. He remains active by presenting at grade schools and colleges about living with MS, has attended several meetings and conferences on behalf of the Society, and shares his passion for drumming as much as possible.
"I have a real passion in bringing joy to others while raising awareness for the disease."
Walk MS is an opportunity for people living with MS and those who care about them to connect, join together, and be inspired. In 2016 alone, nearly 300,000 people at more than 550 locations across the country walked to create a world free of MS, raising nearly $50 million.